Hi, I'm Meg! As the newest member of #TeamProsper, I'd like to officially introduce myself. I grew up in the San Francisco Bay Area before heading to St. Louis for boarding school and college. I officially moved to Cleveland in May 2017 and I've been enjoying getting to know the area over the last six months.
My passion for purpose-driven business began towards the beginning of high school when I was a member of the National Leadership Council, a program that accepts 20 students each year to study and practice servant leadership both at home and on service trips. One of the most memorable experiences from the program was our service trip to Peru. We taught classes in Spanish in a rural mountain school and helped the community with building projects, including the construction of a community greenhouse.
Those few weeks in Peru completely transformed the way I saw the world and I came home convinced that I would work for nonprofits. During my freshman year at Principia College, I took a few introductory business courses and decided to blend my interests by studying the way business can have a positive impact. One of my favorite initiatives in college was founding the Center for Entrepreneurship and Innovation, where students can collaborate on projects and budding ideas with the support of faculty and educational resources.
Over the last few years, my professional experience has included social media management, communications, marketing, design, photography, and writing — all of which come into play in the agency environment. One of my favorite internships was serving as the communications manager for San Francisco-based B Corp, Bixbee, which provides a backpack full of school supplies to a student in need for every backpack they sell.
When I arrived in Cleveland, one of the first things I did was search for B Corps in the area. I was delighted to learn about Prosper for Purpose and even more thrilled to officially join the team in September 2017 as the production coordinator for brand and operations! In just a few months, I've had the privilege of working on several interesting projects in a variety of roles, giving me more exposure to the many facets of agency life. Most importantly, I appreciate being part of a company where our mission is at the core of everything we do.
Whether I'm planning an event, creating graphics, or covering ground across Cleveland to implement our strategies, I love knowing that each project enables our clients to maximize their positive impact. It's so rewarding to turn creative ideas into tangible results, and I'm excited to be part of it.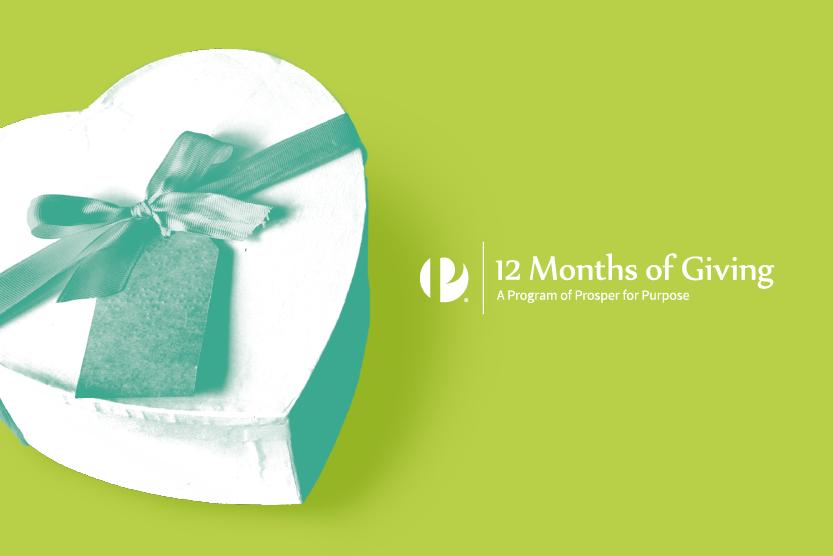 The holiday season is upon us, which means individuals may feel encouraged to give more freely to their favorite charities. We love this generous end-of-year spirit, but we're also committed to giving back to our local communities throughout the rest of the year. Which is one reason why we are continuing our 12 Months of Giving program in 2018.
Each month next year we will provide a Northeast Ohio nonprofit with:
Three (3) hours of free strategic consulting on a current challenge

Promotion through Prosper for Purpose's website, social media accounts and various other channels
During our 2017 program, we have had the opportunity to work with some amazing organizations such as the May Dugan Center, Greater Cleveland Habitat for Humanity, the Greater Cleveland Food Bank and the Conservancy for Cuyahoga Valley National Park.
Would you like to add your name to this list and prosper with us next year?
Just complete and submit this entry form to be considered for our 2018 12 Months of Giving program. Or, tell your favorite Northeast Ohio charity to apply!

It's important to us to work with purpose-driven clients in both the business and nonprofit sectors. When our clients do well, their communities prosper. So, join us as we do well by doing good together in 2018.