Cleveland public relations
Our 12 Months of Giving program allowed us the opportunity to work with three Cleveland-area nonprofits during the third quarter of 2017.
In July, we had the pleasure of assisting the Malachi House, a home that serves those who are terminally ill and provides them with a comfortable place to spend their final days. The Malachi House has a full-service kitchen, family dining room, living room, chapel, atrium, and incredible volunteers who help provide care to their residents in a comfortable and compassionate environment.
Our August pro bono client, Slavic Village, is a community located in the heart of Cleveland. Its rich history draws in people from all walks of life. People of all ages go to Slavic Village to experience all that it has to offer. From recreational activities to an abundant amount of housing opportunities and top-notch educational offerings, there's something about Slavic Village that encourages people to stay once they've planted their roots.
In September, we worked with the Conservancy for Cuyahoga Valley National Park. Since 1994, the Conservancy has been doing wonderful work to help protect our beloved national park. Through their youth programs, volunteer opportunities and more, they truly live their vision — "Connecting you to your national park. Preserving it for future generations."
We thoroughly enjoyed supporting each of these amazing organizations. They are doing tremendous things and we can't wait to watch them continue to make a difference.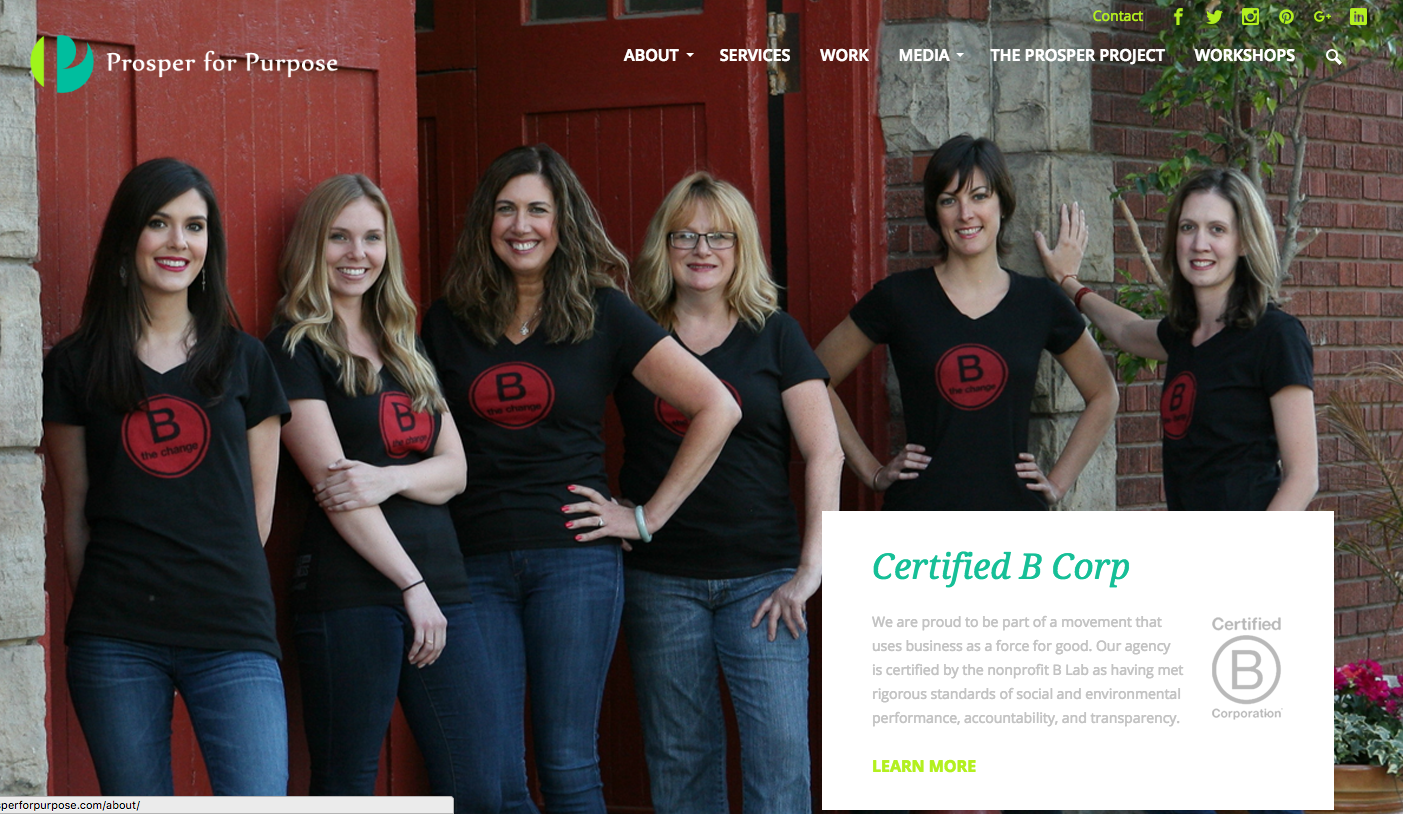 "Innovation is change that unlocks new value." – Jamie Notter
We love our new website—we hope you will, too. But before we tell you why we love it, let us tell you why we created it.
As we went through the process of becoming a Certified B Corporation, we took the opportunity to review our brand and revisit our values and messaging.
When Lorraine Schuchart launched Prosper for Purpose in 2013, she was intentional about every aspect of the brand, even though the company was, at that time, only an idea.
*The Prosper name is based on the philosophy that mission (purpose) is the foundation of success (prosperity).
*The overall circular shape of our logo, exemplifies a connection to the world around us. Each shape within the circular frame has meaning as well.
*Gray font was used to symbolize the behind the scenes nature of public relations work.
It was easy to see that our values were unchanged; in fact, they had paved the way for us to achieve B Corp Certification. However, we did find that we are now able to more intuitively communicate our passion and our purpose. We decided we wanted our website to reflect that.
We found a great partner in Go Media, a Cleveland-based web design firm. Now, after months of hard work, we are thrilled to announce the launch of our new website!
So, why do we love our new website? Here are our top five reasons:
1. Our new site overall is more visually pleasing.
2. The site better reflects Prosper's culture, values and passions.
3. The new portfolio and case studies sections more comprehensively showcase our work.
4. The site is more intuitive and user friendly for our visitors.
5. It gave us a chance to partner with Go Media!
If you have any questions, comments or feedback about our new site, please do reach out to us!