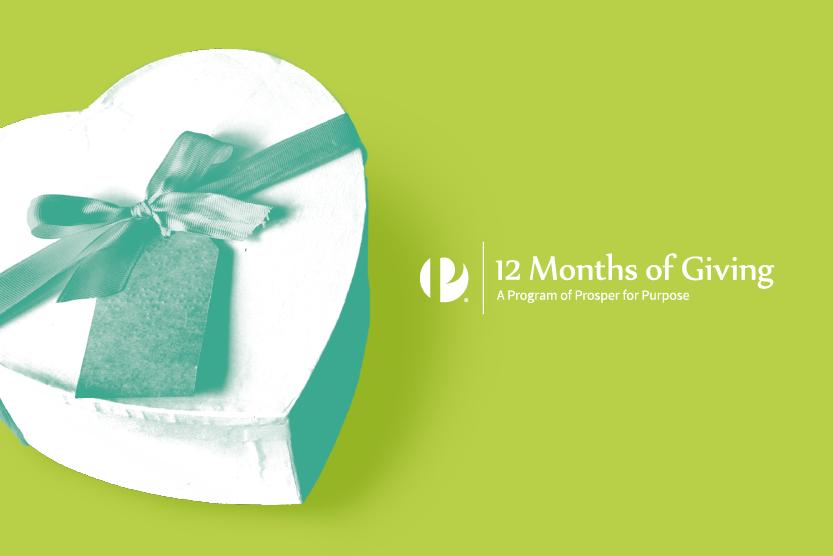 The holiday season is upon us, which means individuals may feel encouraged to give more freely to their favorite charities. We love this generous end-of-year spirit, but we're also committed to giving back to our local communities throughout the rest of the year. Which is one reason why we are continuing our 12 Months of Giving program in 2018.
Each month next year we will provide a Northeast Ohio nonprofit with:
Three (3) hours of free strategic consulting on a current challenge

Promotion through Prosper for Purpose's website, social media accounts and various other channels
During our 2017 program, we have had the opportunity to work with some amazing organizations such as the May Dugan Center, Greater Cleveland Habitat for Humanity, the Greater Cleveland Food Bank and the Conservancy for Cuyahoga Valley National Park.
Would you like to add your name to this list and prosper with us next year?
Just complete and submit this entry form to be considered for our 2018 12 Months of Giving program. Or, tell your favorite Northeast Ohio charity to apply!

It's important to us to work with purpose-driven clients in both the business and nonprofit sectors. When our clients do well, their communities prosper. So, join us as we do well by doing good together in 2018.
As you finalize your content strategy for 2017, it's important to recognize the value and importance of earned media in your plan. According to BullDogReporter.com, earned media placements "are regarded as the most influential sources of news and information when it comes to driving consumer opinions about brands and products and when driving sharing across social media and other platforms."
So what is earned media? Brandwatch defines it as "the content and conversation around your brand or product that has been created by somebody else and published somewhere other than your owned channels."
A white paper from Outsell, Inc. shows that "pull" methods are the most effective marketing methods, resulting in a shift away from intrusive tactics ("push" methods) to user-initiated behavior ("pull" methods).
Telling your story and explaining your 'why' is important, but having an influencer advocating for your brand builds credibility. Content published about your brand and secured media coverage give your brand third-party credibility. Earned media can also help your brand build trust with your community. When a consumer trusts a brand they are more likely to engage with it.
Securing coverage
So how do you secure earned media? You need to go a step above sending out blanket press releases and media alerts. The first step is to do your research. Look at what your targeted influencers have covered in the past. What kind of stories have they published? What are they tweeting about?
Next, create a tailored pitch. Explain exactly why you think your brand or story idea will resonate with their audience. Then, build positive relationships with leaders in the industry. Ideally, by building a relationship with an influencer they will begin to reach out to you, making it easier for you to secure future coverage for your brand.
Leveraging earned content
So, you have valuable earned content. Now what? It's important to consider how to leverage your earned content. After receiving permission to share, promote the earned content across all of your brand's marketing channels to continue to increase the reach and impressions.
Measuring
Focus on what happened after the earned media content was digested. Did readers to go the website? Like you on Facebook? Sign up for your newsletter? Make a purchase? Focus on engagement. You can also look at your share of voice. This will show you where you stand within your industry and against your competitors.
So what exactly does this all mean? Brands need to focus on content that engages their audience, and builds trust and credibility for their organization. Earned media has a proven track record of being able to do just that.
What role does earned media play in your strategy for the coming year?