Our 12 Months of Giving program allowed us the opportunity to work with three Cleveland-area nonprofits during the third quarter of 2017.
In July, we had the pleasure of assisting the Malachi House, a home that serves those who are terminally ill and provides them with a comfortable place to spend their final days. The Malachi House has a full-service kitchen, family dining room, living room, chapel, atrium, and incredible volunteers who help provide care to their residents in a comfortable and compassionate environment.
Our August pro bono client, Slavic Village, is a community located in the heart of Cleveland. Its rich history draws in people from all walks of life. People of all ages go to Slavic Village to experience all that it has to offer. From recreational activities to an abundant amount of housing opportunities and top-notch educational offerings, there's something about Slavic Village that encourages people to stay once they've planted their roots.
In September, we worked with the Conservancy for Cuyahoga Valley National Park. Since 1994, the Conservancy has been doing wonderful work to help protect our beloved national park. Through their youth programs, volunteer opportunities and more, they truly live their vision — "Connecting you to your national park. Preserving it for future generations."
We thoroughly enjoyed supporting each of these amazing organizations. They are doing tremendous things and we can't wait to watch them continue to make a difference.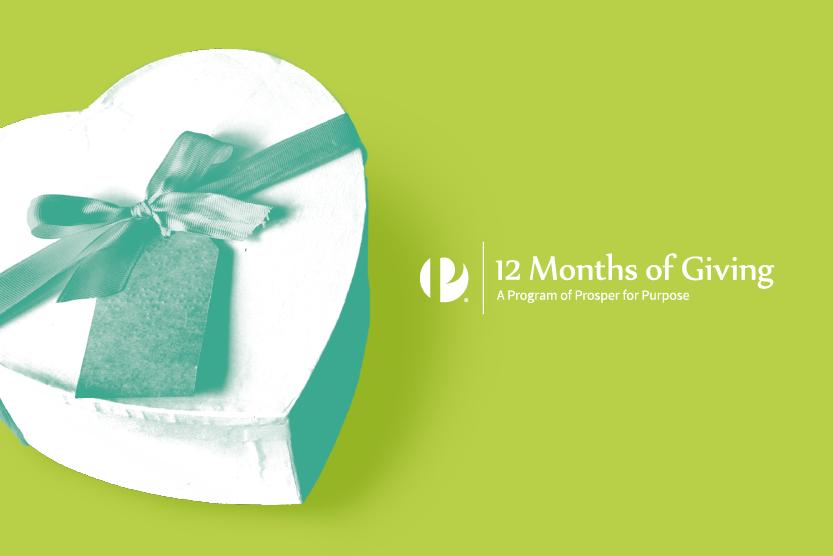 The holiday season is upon us, which means individuals may feel encouraged to give more freely to their favorite charities. We love this generous end-of-year spirit, but we're also committed to giving back to our local communities throughout the rest of the year. Which is one reason why we are continuing our 12 Months of Giving program in 2018.
Each month next year we will provide a Northeast Ohio nonprofit with:
Three (3) hours of free strategic consulting on a current challenge

Promotion through Prosper for Purpose's website, social media accounts and various other channels
During our 2017 program, we have had the opportunity to work with some amazing organizations such as the May Dugan Center, Greater Cleveland Habitat for Humanity, the Greater Cleveland Food Bank and the Conservancy for Cuyahoga Valley National Park.
Would you like to add your name to this list and prosper with us next year?
Just complete and submit this entry form to be considered for our 2018 12 Months of Giving program. Or, tell your favorite Northeast Ohio charity to apply!

It's important to us to work with purpose-driven clients in both the business and nonprofit sectors. When our clients do well, their communities prosper. So, join us as we do well by doing good together in 2018.
Every year, Prosper for Purpose receives dozens of requests for free consulting and services. Our 12 Months of Giving campaign is our way of being able to respond to more of these organizations to help them share their stories and achieve their goals. In this blog post I will introduce the organizations that we were honored to work with in the first quarter.
Our January pro bono client, May Dugan Center, was named as a tribute to May Dugan and her lifetime work as a one-person counselor and advocate for her neighbors in need. The mission of the Center is to help people enrich and advance their lives and communities. The May Dugan Center does this by providing in-house education and resources, as well as health care and food bank opportunities, to people of all ages. During our consult, we helped members of the board and staff review their key stakeholders and messaging.
Greater Cleveland Habitat for Humanity, our February organization, just recently launched a three-year initiative to fully rehab 100 Cleveland homes with a ten-house initiative in Cleveland's Buckeye neighborhood. Habitat for Humanity doesn't just build or rehab homes, they fortify communities and revitalize local neighborhoods, something Prosper was really excited to get behind. Our time focused on creative ideation of strategies and tactics to grow awareness and support.
In March, our focus was on Child and Family Advocates of Cuyahoga County, which serves underage children who are abused. The nonprofit has wonderful attorney volunteers who make sure kids are receiving the best legal assistance they can get. The Child and Family Advocates of Cuyahoga County provide training for the guardians assigned to the children, and have volunteer coordinators who make sure the children are appearing at court while also maintaining contact with the child and family. They advocate for the kids—the volunteer and guardian's sole duty is to support the child's best interest. We made recommendations on how this program could grow and serve more children.
Although our time was brief with each of these organizations, we were so impressed by the work they are doing and enjoyed our time with each of them.